eReader Hardware Guide
Shopping cart
There are no products in your shopping cart.
eReader Hardware Guide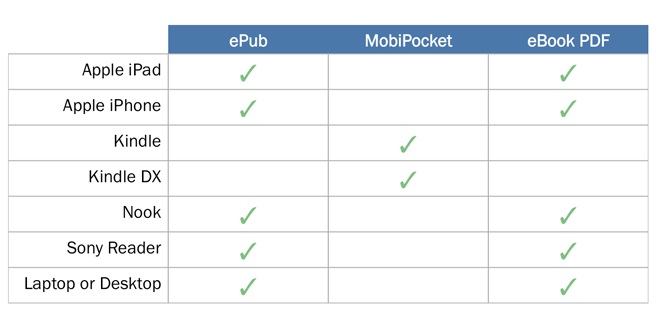 Click here for a detailed list of eBook PDF and ePub supported devices.
PDF eBook – PDF's preserve the original page layout and can be great for note taking and annotations.  Because the present pages in a static format they are not suited for small mobile devices.  For readability, PDF eBooks are best read on computers or laptops.
ePub eBook – ePub's are presented in reflowable text. Because they adapt their presentation to the size of the output device they are ideal for mobile devices such as tablets and cell phones.
Both PDF and ePub formats are protected content and must be downloaded and read using Adobe Digital Editions or software compatible with Adobe DRM.
Online Web eBook - our Online Web eBook option allows you to access your content from anywhere, anytime and on all of your favorite devices, with no software to download!  Our browser-based eReader means that you can access your ebook on any Internet-enabled device including tablets, smartphones, desktops, and laptops.
For more information on what software is required to view your purchased book on a computer, eReader, or handheld device see our eReader Software Guide.